BACK
We asked our interiors partner, Weylandts, for advice on how to make compact spaces feel spacious and how to keep space feeling uncluttered.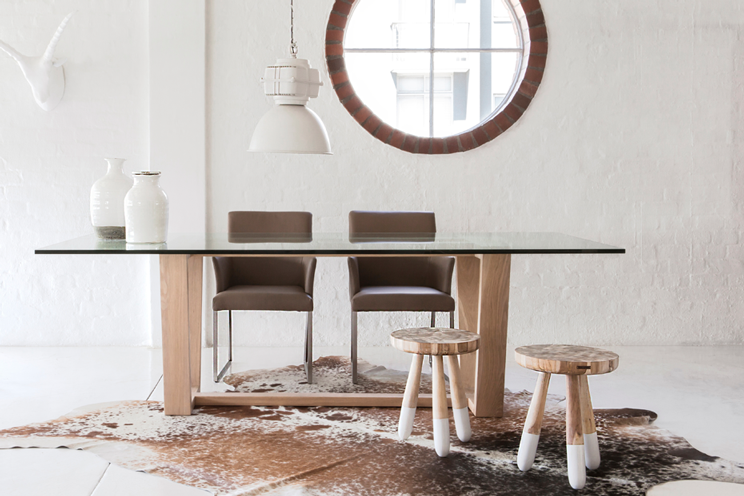 What tips do you have to keep a feeling of spaciousness in a compact apartment?
There are some obvious rules to follow: don't clutter, keep the décor and layered accessories to a minimum, keep and display what is vital, of quality and most expressive. Also keep your colours to a minimum and utilise a fresh, light off-white base for surfaces and larger furniture items. Oddly enough, using large rugs makes small spaces feel larger, also a large scale light feature pendant or floor lamp will do the same and has great impact. It is important to ensure that you can circulate freely in the space, allowing objects and décor the necessary room to breathe.
Duality is a big theme in interiors today, what are the most innovative pieces you have at Weylandts that make use of this trend?
We have a few pieces that make use of this trend. The first being our range of petrified wood furniture that combines the warmth and grain of wood, with the depth and veining of stone. A second example is our Indian door tables that transform an antique door into a contemporary table. Finally, we have our Dragnet Chair that uses flexible rope as a hard shell-like casing.
Does compact living have to be synonymous with minimalism and "less is more" in one's home?
The concept of compact living doesn't necessarily need to be associated with minimalism; the days of polished surfaces, sparsely furnished areas, glass and chrome are hopefully a long way behind us. Good interiors are like a good conversation: diverse, stimulating, sometimes provocative and humorous, which is true whether you are working with large or compact spaces.